Stocks have been surging recently in an ongoing market rally. Over the past month or so, the S&P 500 has popped more than 5%. And, in fact, the Top 10 stocks portfolio in our Innovation Investor research service has risen about 40%.
However, lots of folks are calling this a "bear market rally." They believe it's a head fake that will ultimately lead to more selling.
Well, we're pretty sure it's not. In fact, we're confident this market comeback is the real deal and the start of a new multi-year bull market.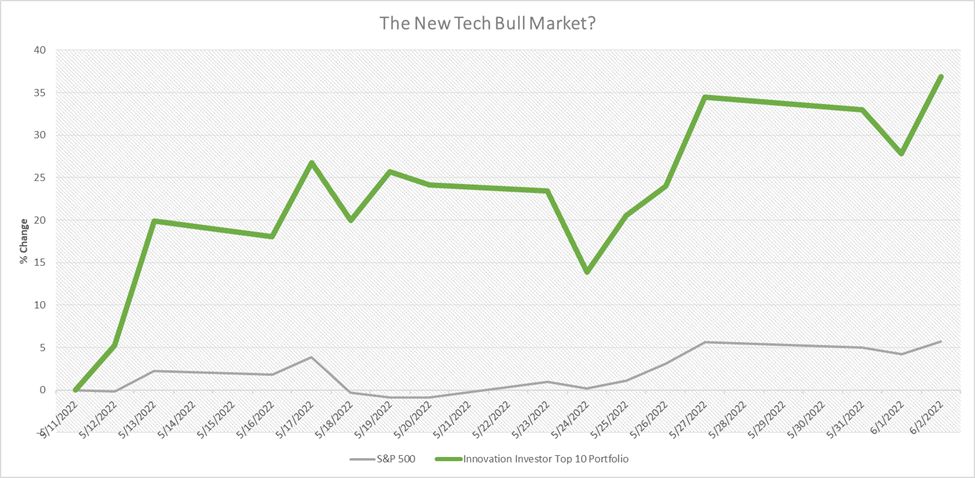 Why? A plethora of reasons. But perhaps the biggest one is a rampant insider buying spree happening right now. And that tends to only happen at market bottoms — not during bear market rallies.
Here's a deeper look.
Is the Market Rally Really a New Bull Market?
One thing you need to understand is that all new bull markets are initially confused as bear market rallies.
That's just the nature of behavioral economics. When stocks are in a secular uptrend, every dip is viewed as a "buy-the-dip" opportunity. And when stocks are trending downward, every rebound is viewed as a bear market rally.
During the 2008 financial crisis, stocks bottomed in March 2009. Over the following two months, equities rallied more than 20%. Yet, throughout April and May 2009, many were calling the equity bounce a "bear market rally" or a "last hurrah."
We stitched together a few of those headlines below. It's pretty funny in hindsight.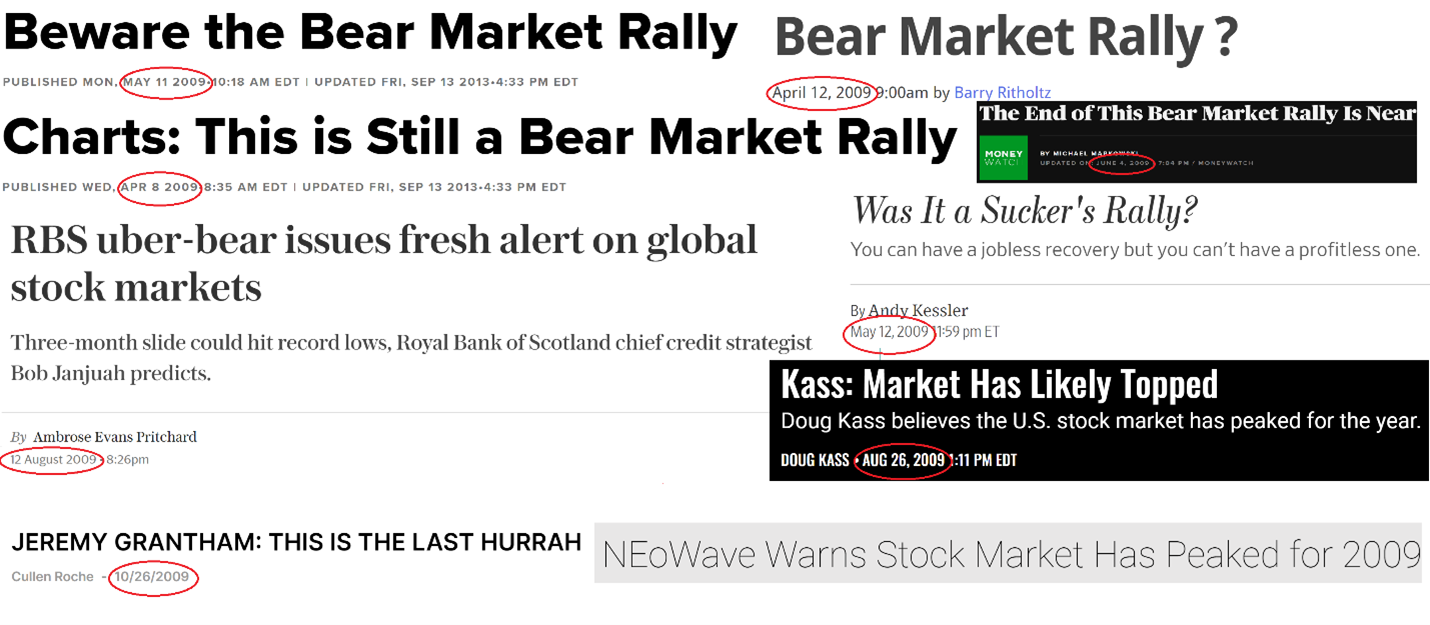 Of course, all those calls for a "bear market rally" were wrong. March 2009 was the start of a new bull market. And from that moment, the S&P 500 proceeded to power 350% higher over the next 10 years.
We feel like May 2022 could be a repeat of March 2009.
Insider Buying Surge
One major reason we feel this is a new bull market is because we're seeing rampant insider buying.
When I say "insiders," I'm talking corporate CEOs, COOs, CFOs, CTOs, board members, VPs and big hedge funds.
The so-called "smart money" has been buying this stock market dip hand-over-fist.
In May, that buying reached a new fervor. The volume of insider purchases in stocks hit levels not seen since March 2020.
Now, if you'll remember, March 2020 coincided with the bottom of the COVID-19 market selloff. Over the next year, there was a big market rally.
That's not an isolated phenomenon. Insiders have a history of calling market bottoms.
They called the market bottoms in March 2009, August 2011 and December 2018 with enormous insider buying sprees.
And now, they're calling a bottom in May 2022 with the very same.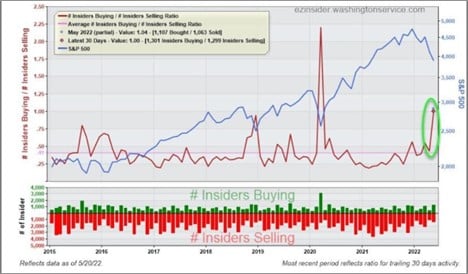 We think history will prove them right again. And we have an exclusive portfolio of high-growth stocks specifically engineered to profit big in the event they are!
What Stocks are the Insiders Buying?
Insiders are telling us the market will rebound over the next 12 months. We think they're right. Historically speaking, the data is showing us that stocks could rebound anywhere between 30% and 50% over the next year.
But while those are good returns, we're seeking even bigger ones. We want to double or even triple our money over the next 12 months.
So, we've a made an exclusive portfolio of "rebound stocks" engineered specifically to achieve that goal.
As fate would have it, these stocks are also the ones that insiders are gobbling up right now.
Case in point:
Over the last month, the CEO of one of these companies has bought over $1 million worth of their stock. A CEO at another has bought over $300,000 worth of company stock. And yet another CEO has shelled out $5 million to buy his company's stock.
A board member of another rebound company bought nearly $500,000 worth of stock just this past week. And a VC fund that sits on the board dumped $10 million into the company's stock.
Insiders are buying our "rebound stocks" in a huge way.
In other words, smart money is capitalizing on the emergence of this new bull market. Now it's time for you to capitalize on it, too.
The Final Word on the Market Rally
Every stock market crash turns into a rally. That has and will forever remain true so long as the U.S. economy keeps rolling.
During crashes, the goal is to identify at which point it becomes a market rally.
Insiders are saying we're at that point right now. And we think there's a good chance history will prove them right.
If so, the market could soar by 30% or more over the next year. But we're not looking for 30% returns in this market rally. We're targeting even bigger returns.
That's why we've created our own exclusive portfolio of stocks engineered specifically to pop big over the next 12 months.
This tailor-made rebound portfolio has soared almost 40% since the market rally began about a month ago.
No wonder the insiders are buying the stocks in it like crazy…
Gain access to that portfolio and align yourself with the smart money that's buying big right now.
On the date of publication, Luke Lango did not have (either directly or indirectly) any positions in the securities mentioned in this article.